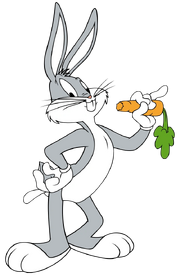 Bugs is an anthropomorphic rabbit that mutters the phrase, "Ehhhh, whats up doc?" He is part of a group of cartoons called the Looney Tunes. His co-stars consist of characters known as
Daffy Duck
, Elmer Fudd, and more. He was created by Tex Avery. But, his prototype form was created by Ben "Bugs" Hardaway. I think that is where he got his name. 
Prototype form
Happy Rabbit first emerged in Porky's Hare Hunt. It is kind of like Porky's Duck Hunt, but with an early vesion of Bugs instead.
Then he appeared in Elmer's Candid Camera Hare-um Scare-um and Prest-o Change-o
The real Bugs
Bugs first appearance was A Wild Hare directed by Tex Avery. This is notable as the first Bugs Bunny cartoon.
He was the number one star of Merrie Melodies in 1942 because he only appeared in Merrie Melodies shorts until 1944. His 26th short Buckaroo Bugs directed by Robert Clampett was his first appearnce in the Looney Tunes series. It was also the last cartoon to credit Leon Schlesinger as he retired and sold the studio to Warner Bros. 
He continued to appear in a lot of shorts in the 40's and 50's. His final golden age episode was False Hare. It was directed by Robert McKimson. After that, Bugs wouldn't appear until 1979.
He was normally paired with Yosemite Sam, Elmer Fudd, Witch Hazel, Tazmainian Devil, Daffy Duck, Marvin the Martian, and lots of others.
His current appearnce is in The Looney Tunes Show. 
He was voiced by Mel Blanc for every time he appeared until 1989. Blanc died in 1989. Jeff Bergman currently voices Bugs and Daffy.
He was shown on screen with rival Mickey Mouse in Who Framed Roger Rabbit skydiving.
He is the mascot of Six Flags. They have a place dedicated to Looney Tunes.
He is currently rivals with SpongeBob SquarePants(Nickelodeon) and Mickey Mouse(Disney).
Bugs has appeared in 167 golden age shorts. Porky Pig appeared in a 152, but his shorts declined after Schlesinger sold the studio. 
Golden age
Most of his cartoons were directed by
1. Friz Freleng
2. Robert McKimson
3. Chuck Jones
4. Robert Clampett
5. Tex Avery
6. Arthur Davis
7. Frank Tashlin
8. Ben Hardaway
9. Abe Levitow
10. Gerry Chinquy
11. Ken Harris