Harvey Beaks is an American animated television series created by C. H. Greenblatt. The series aired on Nickelodeon from March 28, 2015 until December 9, 2016, when it was moved to Nicktoons on March 1, 2017. The series completed its run on December 29, 2017.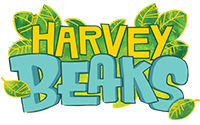 Plot
The series is about a little boy named Harvey, who is a friendly bird, and his two best friends, the imp twins Fee and Foo, and their lives together as they grow and have adventures.
Together, the trio seek adventure and mischief in their home Littlebark Grove.
Production
Greenblatt had previously created the show Chowder for Cartoon Network and had started to develop his next project shortly after it ended in 2010. Greenblatt was looking to create a series with a different vibe from Chowder, which was largely absurdist and comical in nature, by telling stories that had more heart and emotional connection with the audience. Greenblatt pitched the idea to Nickelodeon under the title Bad Seeds and an 11-minute pilot was commissioned. Bad Seeds was eventually picked up for a full series in September 2013, but had to change its name halfway through production due to trademark issues. Greenblatt turned to social networking sites such as Tumblr while building the crew of Harvey Beaks, hiring artists who had little to no prior experience working in animation, but were brought on board due to the quality of their personal work.
As with Greenblatt's previous show, Harvey Beaks features child actors providing the voices for the younger characters, with the exception of major characters Dade and Princess Roberts (voiced by C.H. Greenblatt and Andres Salaff respectively). Most of the minor child characters are voiced by adults.
On June 21, 2015, it was confirmed that the show was renewed for a second season, which began nearly a year later on June 13, 2016 with the episode The New Bugaboo.
Cancellation
On November 6, 2016, C. H. Greenblatt announced that the series had been cancelled. Additionally, Greenblatt confirmed that the remaining episodes will air on Nicktoons, which he had not been made aware of until seeing a Twitter post from Nickelodeon. Harvey Beaks was originally set to premiere new episodes on Nicktoons on November 20, 2016. Following a series of angry rants by Greenblatt (which were later deleted), the episodes were delayed. Greenblatt later stated in a Tumblr post the following February, "I literally have no idea when or where or if [the episodes]'ll air." The new episodes eventually started airing on Nicktoons on March 1, 2017. The last episode aired on Nicktoons on December 29, 2017. After Harvey Beaks, Greenblatt would later move to Warner Bros. Animation, developing Jellystone! for HBO Max.
Music
All of the music in Harvey Beaks is composed by Ego Plum. It is also played by a 40-piece orchestra. The theme song was performed by Plum, Steve Bartek, Bob Mothersbaugh and David J.
Broadcast
Harvey Beaks made its international debut on Nicktoons in the United Kingdom and Ireland on May 11, 2015. The series premiered on Nickelodeon in Africa on June 1 and on Nickelodeon in Australia and New Zealand on June 6. The Southeast Asian feed of Nickelodeon debuted the show on June 8 in the Philippines and on June 29 in Singapore and Malaysia. The series premiered on YTV in Canada on October 10, 2015. According to the programming page, In Albania, it airs on the network Çufo.
Reception
Harvey Beaks received mostly positive reviews from critics. It has a 6.8/10 on IMDb, 4 stars out of 5 on Common Sense Media, a 6.9/10 on TV.com, and a 7.7/10 on BehindtheVoiceActors.