Squirrel Boy is an American animated television series created by Everrett Peck for Cartoon Network and produced by Cartoon Network Studios. The series premiered on May 27th, 2006 and ended on Septmber 27th, 2007. was created and executive-produced by Everett Peck. It has also been shown on Cartoon Network Australia in Australia and Teletoon in Canada. The series revolves the adventures of Rodney J. Squirrel, a talking squirrel who enjoys crazy moments with his human friend, Andy.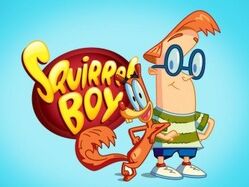 Appearances in Other media 
Andy made a cameo in the Codename: Kids Next Door and The Grim Adventures of Billy and Mandy crossover episode, "The Grim Adventures of the Kids Next Door". He was seen popping out of the recently defeated Delightful Reaper, after Grim and Numbuh 1 destroyed it and saved the world from it. This reveals that Andy gotten assimilated into it.
Andy and Rodney were shown in Cartoon Network's 20th anniversary poster.
Rodney made a cameo appearance in the OK K.O.! Let's Be Heroes episode, Crossover Nexus. He is seen as one of the Cartoon Network heroes that were summoned and defeated by Strike.