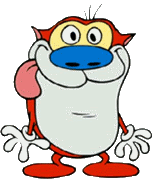 Stimpson J. "Stimpy" Cat
, best known as
Stimpy
, is one of the main characters on the
1991
-
96
Nickelodeon
animated series
"
The Ren & Stimpy Show
."
About Stimpy
Stimpy is the dim-witted companion of asthma-hound chihuahua Ren Hoek.
He is a red cat with a big, blue, bulbous nose and no tail. He sounds like Larry Fine of The Three Stooges. He is no smarter than...well...anything. He is lovable and makes a great companion to Ren.
Stimpy loves watching television, and his favorite shows include "Commander Hoek and Cadet Stimpy" and "The Muddy Mudskipper Show."
Trivia
Stimpy's bulbous nose was inspired by a Tweedy Bird cartoon cartoon called "A Gruesome Twosome."
Stimpy's voice (done by Billy West throughout the series) was modeled after that of Larry Fine, of The Three Stooges.
This article is a stub. You can help Wikicartoon by expanding it.